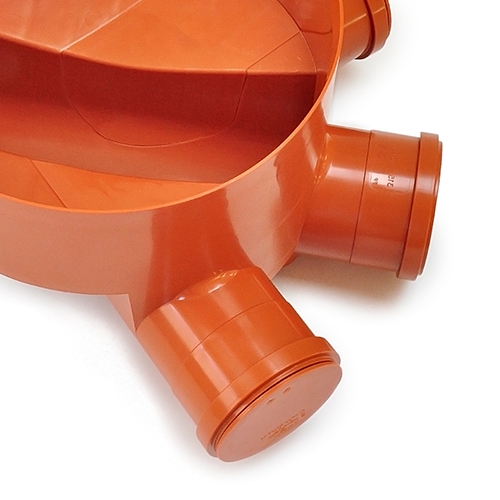 ---
---
Raw material/strong>
PP, PVC
---
Technical characteristics:
DIAMIR chambers are made of polypropylene (PP) by injection molding. The injection method ensures very high accuracy and repeatability of production. Ascending and telescopic tubes are manufactured by extrusion from polypropylene (PP) and polyvinyl chloride (PVC).
All types of offered chambers undergo laboratory and polygon testing in terms of mechanical strength, tightness and resistance to static and dynamic loads. Strict supervision over the quality of our products is ensured by the implemented quality management system based on EN ISO 9001.
The basic components of the well:
Chamber, the base of a non-gassing manhole allowing direct connection of rainwater or sanitary sewer pipes installed in the ground and containing integrally formed channels along with possible branching.
Riser pipe, riser pipe with a diameter of 315-600 mm or a chamber built of modular PP rings with an internal diameter of 800-1000 mm, equipped with stepped steps
Cone, allowing for the correction of the pit height. The cone is equipped with manholes
Telescope,
A part of the set that allows compensation for subsidence that can occur after installation and allows for the correction of the pit height. The telescope is installed at a depth of up to 0.8 m from ground level.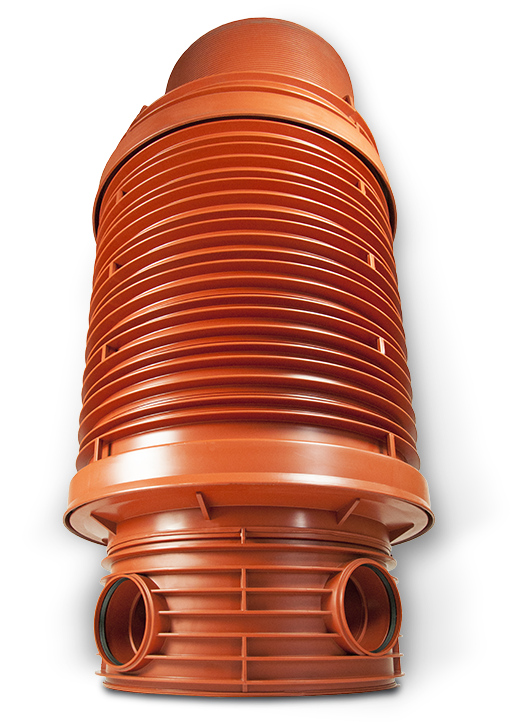 ---
---
Standards:
EN 13598-2: 2016 – Plastic pipe systems for underground atmospheric pressure and sanitary sewerage — Unplasticized poly (vinyl chloride) (PVC-U), polypropylene (PP) and polyethylene (PE) — Part 2: Specifications of manholes and manholes non-phase installed in areas of vehicular traffic deep underground.
EN 124: 2015 – Tops of inlets and drains to the surface for pedestrian and vehicular traffic — Construction rules, type tests, marking, quality control.
EN 476: 2011 – General requirements for components used in gravity sewerage systems.
EN 681-1: 2002 – Elastomer seals — Material requirements for gaskets for water and drainage pipe connections — Part 1: Rubber.
---
---
Advantages of DIAMIR sewage chambers:
Savings resulting from low weight of individual well elements, which allows minimizing the use of heavy equipment and building access roads.
Total tightness to infiltrate groundwater into the chamber's interior and exfiltration of sewage into the ground, which could contaminate the environment.
Excellent hydraulic properties, low resistance of sewage flow and lack of deposition in the chambers.

High strength parameters, facilitates inspection and cleaning thanks to an optimized chamber construction.
High resistance to groundwater buoyancy and adaptation to changing climatic conditions thanks to ribbing of chamber elements.
Speed and ease of assembly thanks to a pressed-in gasket.
Possibility of getting any height in the range of up to 6 meters, and telescopic ending of the chamber gives the possibility of precise height adjustment and adjustment to the level of hardened surface.
Wide range of chambers facilitates design and execution, and the use of connecting joints in ball joints gives the possibility of changing the pipeline direction by ± 7.5 and building the pit on the channel with a large drop.
At least 100 years long life thanks to the most modern technologies, abrasion resistant plastics, aggressive abrasion and impact resistance and elongation at break.
---