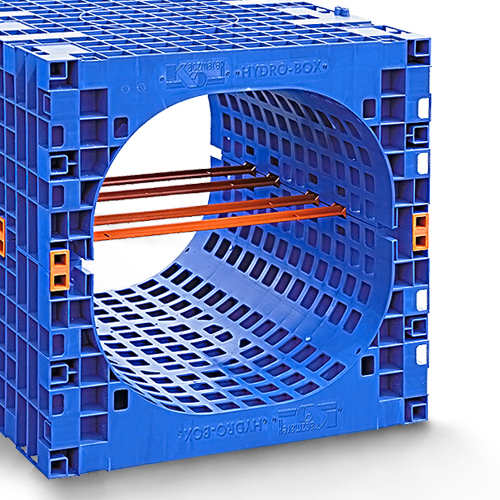 ---
---
Compressive strength in the vertical direction
445 kN/m2
Dimension
800 mm x 800 mm
---
Technical characteristics:
The basic function of the HYDRO-BOX system is the management of rainwater from hardened surfaces, i.e. the temporary accumulation of rainwater at the place of their formation, and then returning them back to the natural circulation. Rainwater drainage is carried out by filtration in accordance with DWA-A138 guidelines (guidelines of the German organization in the field of water and sewage management and waste).
The HYDRO-BOX system is used for draining or storing rainwater discharged from the roofs of buildings, terraces, parking lots, streets and other paved surfaces. HYDRO-BOX system components depending on the strength of the finials can be mounted in places loaded with pedestrian and vehicular traffic of cars and trucks.
The number of boxes used in the designed tank depends on factors such as:

The size of the dehydrated surface




ground conditions and location




Rainfall intensity in a given region of foundation




Duration and frequency of precipitation
The HYDRO-BOX system components include:

HYDRO-BOX type H500 filtration and drainage units with a capacity of 500 ml and high strength

HYDRO-BOX type H500 inspect inlet and drainage boxes with inspection and rinsing channel (high strength, 500 ml capacity)
HYDRO-BOX filtration and drainage boxes type H250 – 250 ml (high strength)


Connection accessories for boxes;

closing plates, connecting elements, connection brackets

PP geotextile filter




Geomembrane:

PVC, PE, PE HD

DIAMIR 315, 425, 600, 800, 1000 sediment filtration and filtration wells

DIAMIR 425, 600, 800 throttling overflow wells,

DIAMIR 600, 800, 1000 pumping wells
---
---
---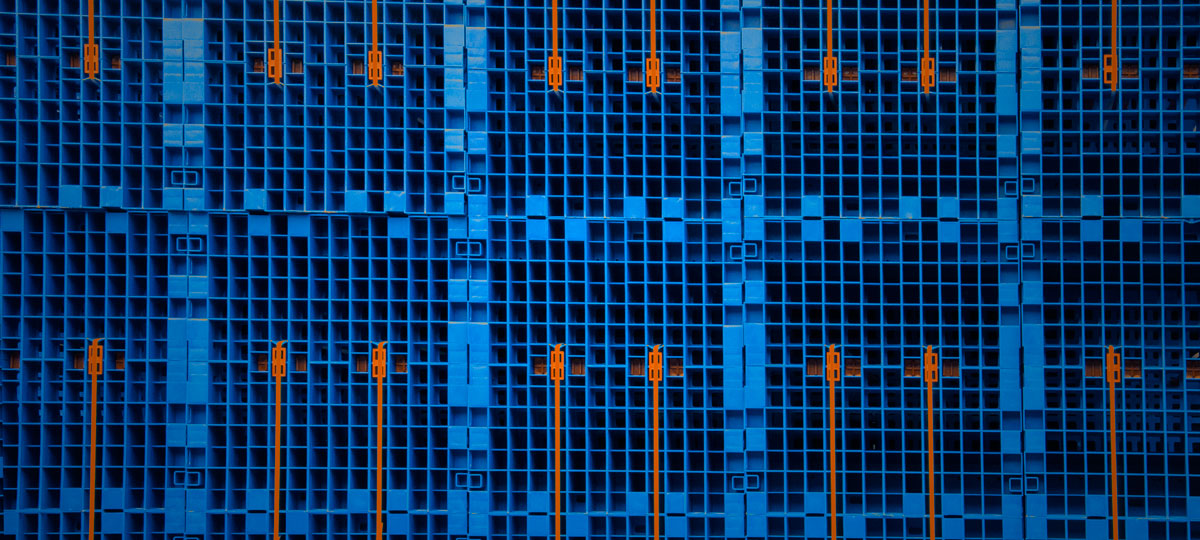 ---
Advantages of Hydro-Box infiltration boxes
Important for the environment, protection of groundwater resources and prevention of soil desiccation.
Lower costs associated with rising water prices and wastewater treatment.
Large surface of perforation of drainage pipes, perforated pipes around the entire circumference (TP).
The HYDRO-BOX system presents the scope of its capabilities when installed with our other products like PVC-U, PP, and K2-KAN outdoor sewage systems or the DIAMIR chambers.
Exemption from rainwater tax recently introduced in some cities and municipalities.
The company has complete instructions, prepared for self-assembly, thanks to which the installation can be done on its own.
The boxes can be assembled in any combinations based on the completed design calculations. The HYDRO-BOX system can be mounted in areas loaded with road traffic. The minimum depth of the 0.8 m movable soil and the maximum foundation depth of 3.0 m must be maintained. The boxes can be loaded statically to a load class SLW 60 (lorries) according to DIN 1072.
Retention of rainwater – A reservoir built from HYDRO-BOX boxes, it can receive and store rainwater. Retention task is fulfilled by wrapping the tank with geomembrane and geotextile ensuring tight water retention.
HYDRO-BOX system components can be mounted in places loaded with pedestrian and vehicular traffic of cars and trucks.
---